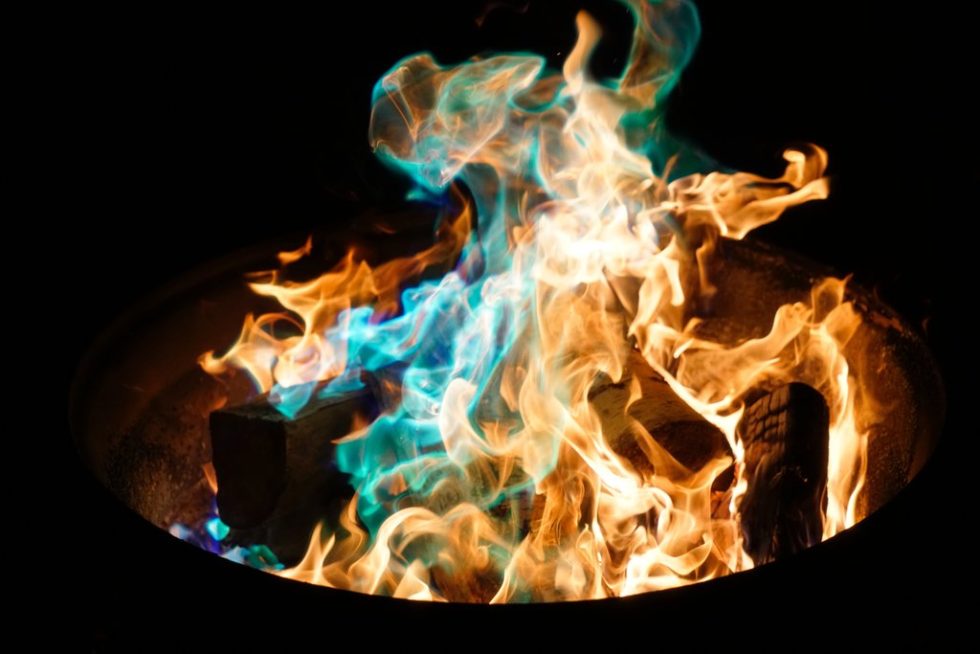 The vision of the Chef:
"When you pass through the waters, I will be with you; and through the rivers, they shall not overwhelm you; when you walk through fire you shall not be burned, and the flame shall not consume you." – Isaiah 43:2 (ESV)
In this blog, fire represents the trials and troubles of life; whereas the Chef represents God, our creator. The trials and troubles we're talking about here are not the ones we experience because of our own wrongdoings. We're talking about the trials we face because of our pursuit to live a life of faith that is pleasing to God. For believers, going through trials is not a matter of IF, rather a matter of WHEN. One cannot be a follower of Christ and live a trial-free life. Jesus Christ himself has PROMISED "… here on earth, you will have many trials and sorrows. But take heart, because I have overcome the world." – John 16:33 (NLT). And we know the Word of God will always be fulfilled whether we like it or not. Therefore,
When we experience the fire of life, we must acknowledge the Word of God is being fulfilled in our lives.
Some time ago, I was going through one of the roughest seasons in my journey with God. I felt like life was hitting me with heat-waves from every single angle. I felt as if I was under fire and I was overwhelmed. I was desperate for rest and a breath of fresh air. One of the days during that period, I was watching my dad cook in the kitchen (he's a chef by profession). I watched him as he seasoned, flipped, turned and cooked the meat and vegetables with the heat coming from the stove. And as a chef, he was an expert at it. I could tell by his movements and his facial expressions that he had a clear vision of what he wanted to make out of the raw materials he had. What was more fascinating was that he knew the level of heat the raw materials had to undergo to transform into an edible meal. I just stood and taught to myself, that's my life right now! What my dad was doing to that meat and veggies was exactly what God was doing to me. He was literally cooking me. I was the raw material; the fire was the trials I was encountering left and right, and the Chef was God.
When we first give our lives to Christ, we are resurrected from the dead and we become alive in Him.
Now not only are we alive, but fresh and raw in Christ. Our faith, our trust in God, our understanding of God, our perspective on life and everything about us is raw – meaning everything that is raw about us is yet to go through the fire of life to mature and to prove to be true (1 Peter 1:6-7). As cooking allows the Chef to season the food and make it more flavoursome and transform it into a useful meal, so will our life be seasoned by God and made even more useful and flavoursome when we endure our cooking process.  So, God permits for us to go through various kinds of trials and struggles so that we are transformed through the fire to become the people He envisioned for us to become in Christ.
Like my dad being a chef has a clear vision of the type of food he wants to make out of the raw materials in his house, God also has a PERFECT VISION of what He wants to make out of us, as He KNEW us before we were flesh and blood and He SET US APART for Himself (Jeremiah 1:5).  He chose us in Christ before the foundation of the world, so that we would be holy and blameless in His sight (Ephesians 1:4). Meaning, He had a perfect vision of who He created us to be in Christ and how He wanted us to live on this earth before we drew our first breath.
How beautiful is that the vision God has for us is not only clear but PERFECT?
Just like with everything under heaven, there are times and seasons for trials (Ecclesiastes 3). Throughout every season of our lives including trying seasons, God keeps His eyes on us (Psalm 33:18). And that's one of the best parts of our cooking journey. Although human chefs know the specific level of heat certain raw materials need to undergo to become the meal they envisioned; there are times where they make mistakes or even forget the materials under the heat longer than it should stay and end up overcooking it or burning it. But God is perfect and He makes no mistakes. Therefore, we can rest assured that He will never by any chance allow us to become overcooked or burnt. He will never allow us to stay under a certain level of heat longer than we are able to weather it.
We can weather the blaze of life well through the grace of God.
Remember the hot furnace prepared for Shadrach, Meshach, and Abednego in Daniel 3? The fire in the furnace was extremely hot so the flames consumed the soldiers who threw the three men in the furnace (Daniel3:22). However, the men of God who were IN the roaring flames were walking in there UNHARMED. You see God? He was watching over them so they weren't burnt or damaged. In fact, they came out of the furnace with their faith, trust, and confidence in God upgraded. The fire brought forth PROMOTION and GROWTH in their lives because they refused to bow down to their trials (Daniel 3:18).
We too should never give in to our trials. We should make our trials bow down to our God.
So, no matter how difficult and fiery these trials that we face in life may be, we can rest assured that God is in complete control. He's got His eyes on us. He has a plan and a vision and He knows what he is making out of our lives. He knows the level of heat we can withstand. It may all be out of our control and we may be stinging from the heat and pressure and gasping for relief. It may be impossible for us to see what the reason is for everything we're going through. But we ought to look up to Jesus' face like Peter did to stop himself from drowning and being completely overwhelmed. As you go through the inevitable fiery trials of life, remember that you're being cooked by God, the master chef of the universe. He's no amateur cook. Look to Him and put your trust and confidence in Him. The fire may hurt right now but you shall come out of it all cooked and tastier (spiritually) in the end.
Beloved, until part two of The Fire & the Chef Series…keep in mind…God perfects you into the image of Christ through trials.
God Loves You, Always & Forever!
4