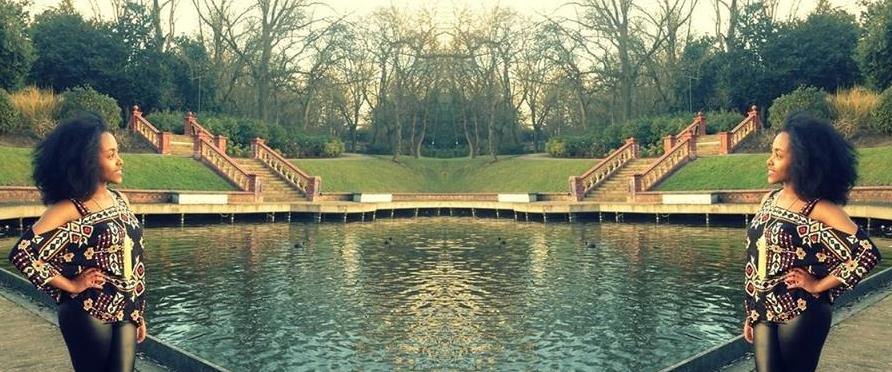 HE BROUGHT ME TO MY END, TO GIVE ME A NEW BEGINNING.
My life on earth began two decades ago in the beautiful city of Addis Ababa, Ethiopia. My mother suffered from complications when she was about 9 months pregnant, so she had to undergo surgery during labor. The doctors operated on her with the determination to save her life & let me die. Man was sure I would die…but 'Before God formed me, HE knew me, before I was born HE set me apart.' – Jeremiah 1:5 WOW! HE saved my life, which is why I was named MERCY.
The Lord had MERCY on both of our lives.
Until I was 6 years old I lived with both of my parents and everything seemed bliss but just before I turned 7 my dad moved out of the country for work. Growing up, I had been closer to my dad but when he left that relationship drifted apart. So life continued and sometime after my dad left everything at home started changing, my relationship with my mother became distasteful. I grew up being beaten, mocked and enslaved to the authority of the spirit dwelling in her. This forced me to grow up far above my age. I lived as the maid of the house rather than the child of  the house and this grew deep roots of bitterness inside of me.
I honestly loved my mother then & I still do especially because she didn't abort me, she gave me a chance at life no matter what. However, her choice of lifestyle not only destroyed her & her marriage but it also ruined mine & made me question my existence for years. I was exposed to rape, demons and even death. However, it never fails to amaze me until this day how God shielded me from all these things. There wasn't a day that went by where I didn't feel so 'lonely' & 'unloved'. Almost every single day, I would tell myself "You have no one who cares for you…nobody who could ever understand you & your pain & give you the love you 'SEEK' with all your heart."
There were times where I tried to end my breath by tying a rope around my neck but It would never work!
My mother is a proclaimed Orthodox Christian, so, I often had some HOPE there could possibly be a God out there. So, during these deeply darkest years of my life, I spent many nights sitting outside with my dog, weeping in the hope of a god somewhere in the universe hearing the deepest cries of my heart and ESCAPING my soul from the HELL she was living in. One day a family friend came to our house and he was acting different. I couldn't understand why, then he began speaking about a man named Jesus (Eyesus). The sound of the name was enough to send shivers down my spine, my entire face felt lifted and I smiled for the first time in a very long time. A few days later he said he knew exactly what I was going through and asked if I could join him and his wife to church. Of Course, I said YES! I was excited by all that I heard about this King and I remember going home and announcing my decision to attend Sunday school to become a believer. My mom went mad and threatened to kick me out of the house if I converted. Then my so called 'religious' neighbors filled me with too many false statements about believers so I was forced to divert my mind from Jesus.
In 2008 just before I turned 14, my dad brought me & my little brother to England. You can ONLY imagine the relief I felt when I left Ethiopia. I literally couldn't wait to set my foot on the land of the United Kingdom, not because of the country itself but because I believed I was finally going to get back the love I received from my dad when I was little. However, this wasn't the case and I was back to square one.
LIFE IN THE UK
My dad was not the man I knew as a child and he was already a believer of Christ when we moved to England. So, he attempted to convince me to go to church with him many times but I always rebelled because of the lies I was fed. One sunday however, I decided to go with a hardened heart but that changed quickly when I felt the presence of God. After going some Sundays the pastor of the church asked me to join the new believers' class and so I did because I desired to know what they were talking about. One day there was a conference held at the church. There was a guest speaker and he prayed for everyone including me. For the very first time God spoke to me, my heart melted when I realised there was really a God out there who had seen all that I had been through and actually separated me for Himself. That day I 'accepted' Christ as my saviour. After my baptism I kept going to the 'house of God' not because I knew Him or I understood what the pastor was teaching but because I felt that I had to.
About 3 months after I moved here, I started High School. My lack of knowledge in the English language & my skin problem had attracted a bunch of bullies my direction. I made an effort to adapt to the new environment & cope with the bullies for a while and stay in church but then I started seeing & hearing disgusting false accusations and judgments being made against me & some of my friends. It became too hard. You see many lacked the knowledge that they were the 'church' and not the building they were going to, which resulted in them behaving in ways true Disciples of Christ shouldn't behave. Since I didn't know Christ for myself, all that went down in that 'church' and at home caused me to rebel from going to any church for a long time. I blamed God and turned 180 degrees to the other side, I messed up big time…I joined the wrong crowd because..
I judged Jesus by the character of those who professed him starting from my own father.
COLLEGE
I finished high school when I was 16 and started college. A friend of mine who lived in my area told me about this English church that was a 10 minutes' walk from my house. I contemplated and decided to check it out one Sunday. It was different and lovely but I honestly wasn't that interested. I still went anyways and I am glad I did.
I began seeing the love of Christ through the believers and I joined the choir. However, I always couldn't wait to leave after the sermon ended because I was extremely lukewarm. I would sing in the choir on Sunday morning and go home to turn up to Beyoncé in the afternoon. God only existed on Sundays in my world. For the first time, I learned about quiet time and how Christ seeks to have an intimate relationship with me. A year after going to this church, I truly started growing the 'desire to change' but I didn't know how to change. I started praying and attending Sunday service consistently. My relationship with my dad was chaotic throughout these years so I strongly struggled to apply at home what I learned at church.  I was still suffering from the pain I held onto from my past. I didn't know how to be free from it all.
Starting from the end of 2012 to half way 2013, I literally lost it. I started praying to God every day to kill me…I didn't see the point in me living. I immediately fell really ill and I was diagnosed with anemia. I would bleed almost every day. Just when my bleeding got better, I had an accident in which I was meant to die but I ended up breaking my leg. I didn't get why God kept saving my tail. I was stuck at home for one whole summer. During this time I would listen to a lot of sermons as well as my secular music and celebrity gossip, read a bit of the Word and pray although I didn't know what I was saying half of the time.
Without my acknowledgement, every Word I heard was being sown inside of me and preparing me for what was to happen.
At the end of the healing process I met this guy on Facebook, we began to speak daily and debated about the meaning of the bible, but this hadn't stopped me from becoming unequally yoked with him. I knew it was wrong but I thought I could 'change him.' Little did I know I needed change myself. I thought I was saved but I was spat out by God! Before I knew it, I found myself constantly submitting to this 'boy' who was leading me down to the pit of hell.
I thought God was my Lord until I started turning to the god who sat on the throne Jehovah should have been on.
"Don't you realize that you become the slave of whatever you choose to obey?"  – Romans 6:16 I chose to please dust over the Lord who I really believed I loved, desired and was praying to. I found myself in places I never imagined I could ever be in. But In the midst of all these, I kept going to church, praying, and reading spiritual books. I thank God for never quitting going to church even with my lukewarm self. I am not saying it was right but trust me the one place you don't want to run from but to run to even in your disobedience is the house of God. Faith is built by HEARING and hearing from the Word of God. Therefore, If you have the true desire to change, every Word you hear will eventually bring that change & growth.
The more I read, the deeper my knowledge, the more I feared God.
I was extremely convicted and convinced God would end my life for I didn't know why I kept tripping when I knew better. However, to my amazement, God kept waking me up. I was so drained, unhappy, and ruined by this relationship. So, I desperately kept praying to God to break it. Can you believe it, He ACTUALLY answered my prayer. This happened at the end of 2013 and 2014 came in. I was so broken, empty and lifeless beyond description.
One Thursday evening in January 2014, I was alone at home and I turned off everything and sat quietly as I figured nothing could fill my HUGE VOID and heal the deep wounds I had since childhood. For a while, I failed to realise what was causing me to wonder in the graveyard whilst desiring and fearing God. This evening, God made it clear to me that I excelled at giving Him what was in my hands but I never gave Him my life. The key laid in giving Him MYSELF and not what I had.
If He has me, He gets to control what I have.
I despised my luke warmness to the core!
"Wash me clean from my guilt. Purify me from my sin. For I recognize my rebellion; it haunts me day and night. Against you, and you alone, have I sinned; I have done what is evil in your sight." – Psalm 51:2-4
I fell on my knees and repented balling my eyes out for hours. I told God I was fed up of having one foot in the world and one foot in the kingdom.  I was sick and tired of being sick and tired of knowing Him & expecting to hear from Him through pastors and prophets. I was desperate for Him so I sought Him. Although no one had told me about surrendering, the Holy Spirit was there leading me, so I surrendered all pieces of me before the throne of God. At this point, I was relentless to KNOW & HEAR Him for myself. I said, "If you have truly forgiven me and heard my prayer then speak to me." And I run to the mid-week service that I had never been to before. The worship session ended and my pastor got up to preach and said: "I will be teaching you on How to HEAR the VOICE OF God & distinguish it from all other voices." I was so speechless! My eyes were filled with tears and I couldn't believe God didn't give up on me until that moment.
"The sacrifice you desire is a broken spirit.
    You will not reject a broken and repentant heart, O God." – Psalm 51:17
I thought my life was over. I thought my mistakes were final. I believed, I went too far to return but Christ met my MESS with His MERCY. He cleansed me off my filthiness with His Holy blood. I EMBRACED HIS LOVE for the first time in my life. All along, what the enemy had meant for my death, God used for my resurrection.
He saved me from Himself, for Himself, by Himself.
Since Christ took His place in my heart, He has made me BRAND NEW. He has filled my God size void and made me WHOLE. He opened up my deeply hidden wounds to bring healing & deliver me from my bitterness & stubbornness. He has brought me so far that I am going to Ethiopia this summer to work on my relationship with my mother. How amazing is Jesus?! He disciplines me. He daily cultivates, prunes, and molds me into the royal woman He birthed on the cross in agony. I now have my IDENTITY, VALUE & WORTH in Him alone. Christ has given me overflowing joy & peace the world can never take away from me.
God is a God of His Word! He is crazy faithful to the end to carry His chosen ones through all valleys of life.
HE WILL NEVER GIVE UP ON YOU! Don't ever let your past dictate your future. God is a God of new beginnings & chances. Seize this opportunity while it's available. Our days on earth are numbered & the CLOCK is ticking so, STOP STALLING. You have an expiration date, your clock is not stalling. Give your WHOLE life to God and surrender your will, so His will for your life may be done.
Let God be GOD!
I encourage you to SHARE your shame for the glory of the Shepherd and for deliverance from past sins. It's written, "And they overcame him by the blood of the lamb and the word of their testimony…" – Revelation 12:11 Our testimonies & transparency are the divine seeds of God that are implanted in the hearts' of the lost, whose hearts are cultivated by the Holy Spirit through our humble appreciation & confession of what Christ has done for us through His DEATH, BURIAL & RESURRECTION.
HE TURNED IT 180 DEGREES!
http://https://www.youtube.com/watch?v=kOa10F8YkgI
God Loves You, Always & Forever!
3