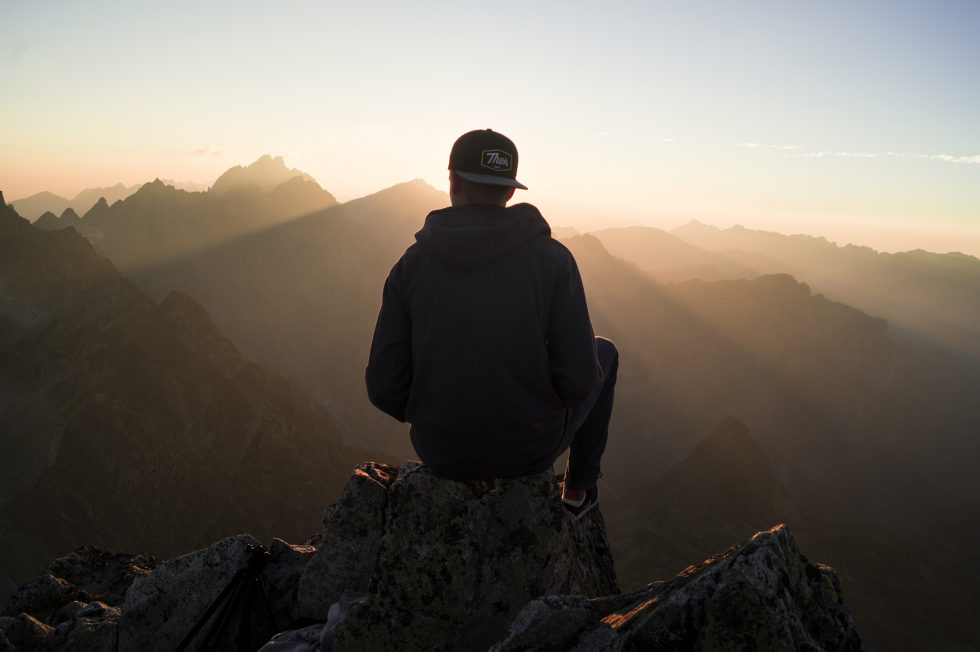 Christianity is come as you are NOT stay as you are!
The message I am sharing with you today has been burning in my belly for months. Before God made us, He knew us. He predestined our lives before He introduced us to this fallen world. The people we are destined to be is manifested when we surrender our will to live under God's will for our lives.
This is for those who 'believe' they are saved but lack the desire to imitate Christ. Our creator alone can bring out of us who He has destined us to be for His glory. I pray you may be blessed and encouraged by this to desire God and to imitate Christ. REMEMBER:
Inspiration has no relevance if the revelation you receive is not applied to bring about the desired transformation in you.
"Therefore, if anyone is in Christ, he is a new creation. The old has passed away; behold, the new has come." – 2 Corinthians 5:17 (ESV) The desire to change is the hunger to grow into becoming the 'new man' Christ died to enable us to become. Multitudes 'REALLY' like Jesus but they don't really like to become like Him. They like the way He loves them, His humility, and forgiveness but their lives is not headed in that direction of 'servanthood'.
Christians are spiritually reborn people who are required to follow the footsteps of Jesus Christ. For us finding Jesus and believing in Him is the beginning of our journey, not the end. Once we have found the narrow gate we are expected to start walking on the narrow path. (Matthew 7) If we 'believe' in His salvation but follow the ways of this godless world it means we take Jesus as a great saviour but not as a great role model. Is He the desire of your heart and your role model? "Whoever claims to live in him must live as Jesus did." – 1 John 2:6 This is not an option rather an OBLIGATION every soul that profess Christ must fulfil out of love. One cannot be a Christian and admire the characters of Christ and live life their way. NO! A Christian stalks the footprints of the saviour Lord Jesus Christ.
You can't be a Christian without becoming like Christ.
Change is a process & it is continual, for we are expected to be perfect as our heavenly Father is perfect until the end of our race. The scriptures inform us of the NEW heaven & earth that is prepared for those who endure until the end. It's clear from the parables such as the one about 'the wineskins' found in Mark 2, unless we are made new, we will not be fit to enter the kingdom of the Lord. New people call for new ways of living and home.
WHY do I LACK the desire to change?
YOU STOPPED HEARING THE WORD!
Faith comes by hearing and hearing the Word of God! For us to believe in salvation through Christ, we first had to hear about Him. We heard, we believed and received Jesus as our personal saviour. What separates the CHANGED souls from the rest is the further steps they took in order to sustain their faith. They kept searching for this 'Jesus' that they found. They started digging their bibles & pursuing God to experience Him for themselves. The less time we spend reading, the weaker our faith.
The weaker our faith, the less we desire to know & follow Christ.
YOU ARE EATING THE WRONG FOOD!
After receiving Jesus, many focus on 'who' they are in Christ now that they neglect the fact their whole life needs a transformation to keep their 'new identity'. You desire what you invest your time and heart in. As Americans' say 'Garbage in, garbage out.' What you meditate on, you will act upon. If your meditation is not in the Word, instead of God you will desire what your focus is on. What do you spend your time watching & reading? Who are your friends? One will continue walking with their stone cold and hardened heart towards God if they avoid anything of the faith and expose themselves to the world. If the shows & movies you watch, the music you listen to, the books you read are poison and you surround yourself with 'zombies' who are bad company then why wouldn't you lack the desire to change to be like Christ? You are CORRUPTED! You want to be like the things and the people you follow. To hunger for righteousness, you need to cut the meal which feeds your sinful nature. You can't be nurturing your pride, ego and evil desires and anticipate to desire Jesus.  (Matthew 5:6) Whoever or whatever you are listening to is fertilising you. They are either infecting you or sanctifying you. Who and what are you following? What are you eating?
YOU HEAR BUT YOU DON'T LISTEN!
Listening is OBEYING what you hear. You hear the Word, walk away and forget what you should look like as a believer. (James 1:22-25) You are not saved by faith alone. Faith without action is like a tree without water. ACTION BRINGS FAITH TO LIFE! Some of you hear the Word but then you allow the cares of this short life to crowd the message you received. You have shifted your focus from the problem solver to the problem. You are now way too overwhelmed by the weight of your burdens to be obedient to God. Christ is calling you all who are weary and carry heavy burdens to go to Him to find REST.
YOU DON'T PRAY EARNESTLY!
Earnest prayers are PERSISTENT PRAYERS. God doesn't change you by force but by choice. Although the Israelites had been in slavery for about 400 years, instead of embracing their chains, by faith they prayed to God for freedom. God responded to their earnest and fervent prayers (Exodus 2:23-25) Before desire comes the realisation of the bondage one is in. A person first needs to know that they are a sinner in order to come to repentance and receive forgiveness. Likewise, you need to know what is holding you back from 'desiring to change'. Is it sin, fear of the unknown, pride, people bondage or your hardened heart against God about your past or present that is causing you to lack desire? Whatever it may be you need to identify it and give it to God in PRAYER. Ask and you shall receive.
God has the ability to turn a stony heart into a heart of flesh…a heart that is sensitive and responsive towards HIM but only if you are willing to live life His way.
How do I GROW to desire to change?
1. Meditate on the Word. My desire to change grew as I spent more of my time in the Word, as I read more I came to the realisation of my hypocrisy. My life wasn't in alignment with the Word. You can't grow to desire God without learning to know Him better and better. You are in trouble if Sunday is the one day you open your bible. You MUST feed on the bread of life (the Word) consistently, to know God more and to increase your faith in Jesus. Let the Word accomplish its work in you by applying what you read. To clean a trashcan we must first empty the rubbish out of it. Only then can we start scrubbing the grease and wash it clean. Get rid of the filthy music, bad company (Psalm 1:1) and everything else that is trashy and dirty in your life. You can do all things through Christ by FAITH. Allow the spirit of God to empty your temple from all unrighteousness & ungodliness and then clean it with His truth. The truth gives you a new mindset by scrubbing out the dirt. Christ washes us with His Word (Ephesians 5:26) Your increasing awareness of His goodness leads you to repentance. Pray to your Father by faith for spiritual wisdom and understanding, and He will give it to you abundantly. However, until you knock, the door will not be opened.
2. Fellowship with other believers. If you think you will be able to live a life worth living before the sight of God without fellowshipping with the Body of Christ, you are dreaming. One of the possible reasons behind your lack of desire could be due to your lack of unity with other believers. "But if we are living in the light, as God is in the light, then we have fellowship with each other, and the blood of Jesus, his Son, cleanses us from all sin." – 1 John 1:7 This is saying if the body parts (us) don't connect together as one when the blood flows through the body, it will not reach those who are not in the body to set them free from sins that are affecting their spiritual growth.
3. Embrace the love of Christ. Meditation on the Word gives you a visual image of every kind of pain Jesus experienced due to His CRAZZZZZZZY love towards you. How privileged are you & I to be unconditionally loved by our holy creator?! The child in you longs for Abba's intimate LOVE. We were born to embrace this love not accept it. You must first embrace His love to be able to love Him back. Embracing His love allows you to know Him on a personal level leading you to form an intimate relationship with Him. ALL THE LORD EVER WANTS FROM YOU IS YOUR HEART!
When He has your heart, He controls what flows IN & OUT of it.
4. Spend time with God. You can't love someone you don't know. Only when you seek God will you find Him. YOU MUST ENCOUNTER HIM TO DESIRE TO FOLLOW HIM. Develop the habit of quietly sitting at the feet of your saviour. His presence is with you at all times. Cry to Him with a sincere heart. Open up to God about your struggles & lack of desire to become like Him. You can't do it on your own. Embrace your weakness, in Christ alone can you win the battle of the flesh & the spirit. Stop trying to eliminate your sins from the surface as they are bound to show up over time. Jesus plucks out the roots of our lustful desires one by one and replaces them with righteous desires when we learn to quietly sit and pour our heart out to Him. Let HIM transform you from the INSIDE OUT by dealing with your heart & renewing your mind.The closer you draw to God, the deeper the repentance and the higher your desire to TRANSFORM into the image of Christ.
5. LOVE Christ. One evening I was laying on my bed wondering if Jesus knew just how much I loved Him & He whispered into my heart "You live your love for me Mercy!" Our obedience is reliant on how deeply we are growing in love with God. Anyone who loves God keeps His Word (John 14:23). Love is the fulfilment of the law. Love Him through your actions and not only your words.
ONLY WHEN YOU LOVE JESUS WILL YOU DESIRE TO CHANGE TO IMITATE HIM!                               
Disclaimer: The list above is only to be used as a guidance!
God Loves You, Always & Forever!
0