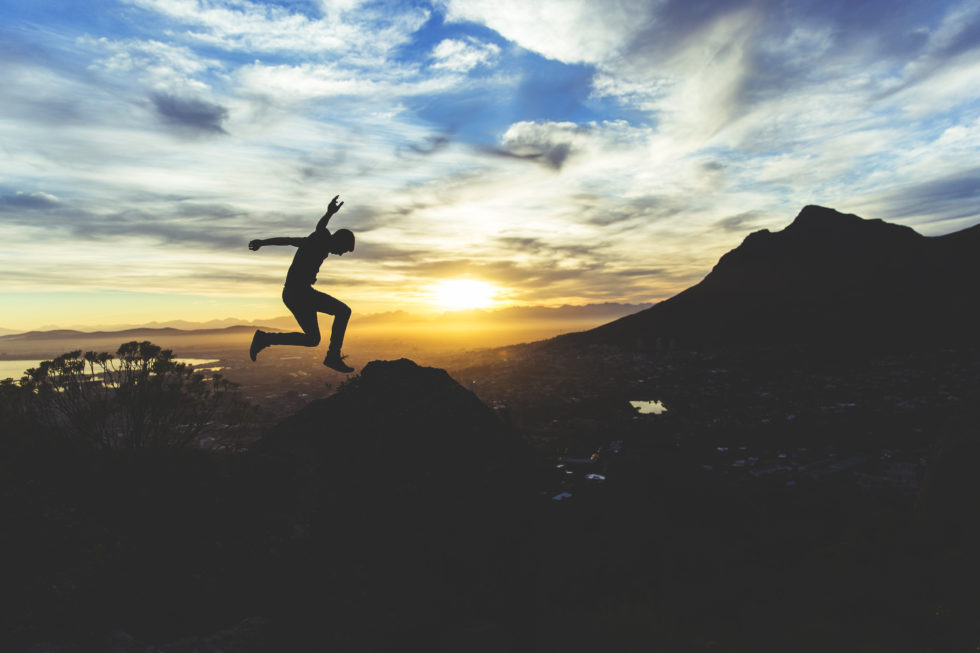 Quiet often I come across plenty of people who would love to be on fire for God. They 'believe' they have the desire to change and they absolutely love God but they struggle to achieve the change. I once was like one of these people, I was thirsty for change. However, for over a year, I failed to realize the chains that kept me imprisoned in my old-self despite my desire to be made and stay new.
The main reason for the failure to overcome the struggle to change lays in the truth that everybody wants to eat but few are willing to hunt. But it's not enough to want, if we are not willing to do what it takes to get it. If putting on 'the new man' Paul writes about in the book of Ephesians was easy, many people would have followed Christ.
Humans by nature resist change due to the excess uncertainties, loss of control, effort required, discomfort and the ripple effects associated with change. We prefer to live in mired misery than to head toward the unknown. We loath trading our comfort for the uncomfortable especially when the profit that comes along with the exchange is merely based on active faith.
Faith, the key to our salvation and to activating the Lord's plan and purpose for our lives. The only way to becoming the spotless bride Christ birthed in agony on the old rugged cross.
The struggle is a by-product of the battle between the flesh and the spirit. "For the desires of the flesh are against the Spirit, and the desires of the Spirit are against the flesh, for these are opposed to each other, to keep you from doing the things you want to do." – Galatians 5:17 (ESV) When we were zombies (spiritually dead), we could behave in any manner, we could cuss, get drunk, sleep with anyone, and date any person. We lived satisfying our sinful nature (the flesh). Our character was built by SIN alone. However, when we became spiritually born again and we start growing the desire to change and follow Jesus, we begin facing the ripple effects of the change we are about to achieve in Christ. The ripples disrupt the habits' our sinful nature has developed. This creates a clash between the Spirit and the flesh leading to our struggle to become the new-man, Son/Daughter of God Jesus died to empower us to become.
Desire in itself will not enable us to achieve change. But desire with effort and perseverance to overcome the struggle does.
Our spirit, when reborn by the power of God, it naturally longs to change to imitate Jesus. It desires to be HOLY. However, the flesh always wants what is contrary to the Word of God and it seeks what makes it HAPPY.  As a result of the conflict between the two, the process of change becomes PAINFUL. The Lord is NOT interested in our happiness but holiness. He cares about our eternity more than our temporary and ever changing feelings. Our salvation is FREE but our change will COST us our lives. Christ has warned us to COUNT THE COST of following Him before we begin our journey. "But don't begin until you count the cost. For who would begin construction of a building without first calculating the cost to see if there is enough money to finish it?" – Luke 14:28 If we want to follow Jesus, change is a MUST. We must play our part effectively by taking the necessary steps required for us to DIE to our old-self and GROW into our new identity. Whom the Son has set free is free indeed! We no longer have to be tied to our old-man.
TRUE CHANGE starts from within.
My lack of awareness of this truth had me assuming change through the modification of my acts for years. You see, man changes the action of the beast BUT Jesus changes the HEART of the beast. We are not animals we don't need action adjustments rather the change of heart through the power of Christ which will enable us to ACTUALLY change to become and walk as children of the light (Christ). Perhaps, your struggle could be a result of you training yourself to be like Christ without renewing your mind with the Word and truly giving your heart to Him. Authentic change flows from within!
We must RESIST the temptation to give up or find comfort in our struggles to change. When we become comfortable in a struggle, it's no longer a struggle but a habit. In a struggle there is a FIGHT. Comfort comes when we stop fighting and start being content in a defeat mode. Our flesh constantly attempts to beat our spirit man. In order to overcome it, we must starve our flesh and deny it as if it doesn't exist. Refuse to nurture the part of you that encourages you to draw further away from God instead of closer.
WAYS TO OVERCOMING THE STRUGGLE
PERSISTENTLY PURSUE GOD. Where God is sought, He is found. He who chases Christ with dedication despite hardships and failures will definitely encounter Him. You must encounter Christ to change and follow Him. Persistent prayer is an indication of a true desire. How long you pursue Him before you encounter Him is up to God. If you have not yet encountered Him to start your journey of changing then keep reaching for His garment in your closet. He has no intention of hiding away from you…just ensure your heart truly desires Him. He responds to the deepest cries of our hearts.


Don't pull away from God even if you are miserably messed up. God loves you to death and beyond!

SURRENDER. The beginning of change is the acceptance of our weakness, brokenness and desperate need of HELP & SAVING. The realisation of our feebleness and our need of Him brings us on our face before God surrendering all of our broken pieces. Have you repented & surrendered your life to God? You may have repented but without surrendering your all, God will not be able to change you to fulfil His will for your life. "Surrender your heart to God, turn to him in prayer, and give up your sins—even those you do in secret." – Job 11:13-14 (CEV) You'll not change until you absolutely surrender your life to the King. We can't change by our own power and strength. If we could do it on our own there would have been no need for Christ to suffer and die in our names. LET GO and LET GOD work. He is meant to LEAD, we are meant to follow.
FEAST ON THE WORD CONSISTENTLY. The part of us we feed the most will always win. Our spirit man needs to eat the bread of life to grow in strength and overcome the flesh. If we are too busy satisfying the selfish desires of our flesh and neglecting our spirit man, we are in great danger of failing to complete our race. We are what we eat. If we feed on filth, we'll be full of garbage.
FASTING. One of the most powerful tools to murdering the flesh is fasting. We are not fighting against flesh and blood. In Matthew 4, right after His baptism Jesus was led by the Spirit to the wilderness and there He fasted for 40 days and 40 nights. He was full of the Word and that's all He needed to resist the temptation of the enemy. The enemy uses our flesh to resist change in our spirit. Killing the flesh makes it challenging for Him to win us over.
DON'T BE DISCOURAGED BY YOUR FAILURES. The enemy starts labouring double shift as soon as you rise to encounter Christ to be made and stay 'NEW'. The agents of the enemy work restlessly to hinder your walk for they know their time is SHORT. "For we are not fighting against flesh-and-blood enemies, but against evil rulers and authorities of the unseen world, against mighty powers in this dark world, and against evil spirits in the heavenly places." – Ephesians 6:12  So of course you will struggle to change.


You will fall and make mistakes. The question is 'What is your response to your failures?' Do you choose to 'give up' or 'press on'? Your CHOICE matters to God.

LET GO. The bad company, the job, the degree and everything the Lord is placing it on your heart to quit on, let it all go. Obedience is better than sacrifice. If we want to imitate Him, we must follow His voice alone despite the opinions and criticisms of man. We are facing the Lion of Judah on judgement day, not dust. Quit on the rubbish reality TV shows, music and celebrity gossip you consume on a regular basis. Our role model is Christ. You will continue to fail to change if you don't quit on the poison.


You can't eat the bread of life and the poison of the world at the same time and expect to lead a healthy spiritual life.

It's never easy for any of us to let go of such things but you know what brother/sister, God has given us the power to overcome the noises of the flesh by capturing every thought to make it obedient to Christ. (2 Cor. 10:5) Don't GIVE UP, GET UP and move forward as Christ did for your sake. Christ came to give us a life we were never able to live due to our lack of power to overcome sin. He endured struggles, trials and tests to give us the power and strength to walk as He walked on this earth representing His Father. "I have told you these things, so that in me you may have peace. In this world, you will have trouble. But take heart! I have overcome the world." – John 16:33
God Loves You, Always & Forever!
0